Tethered #91
on
September 12, 2014
at
6:00 pm
↓ Transcript
MIKE: Hey! Thanks for th-
MAN 1: QUICK! THEY WENT THIS WAY!
MIKE: Follow me!
MAN 1: THERE THEY ARE!


HERE YOU GO! Also, admire this fanart that was given to me recently!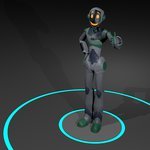 Please feel free to email me at contacttetheredcomic@gmail.com if you want to give me any feedback or comments, its always good to hear from you guys! 
Enjoying Tethered? Please show your support and like the Facebook page!