Tethered #133
on
July 24, 2015
at
10:10 pm
↓ Transcript
PANEL 1
MAN
You've got 30 minutes.

PANEL 3
LIAM
Come on in and take a seat, young lady. Please wait outside Henry, I'm sure we won't be too long.

PANEL 4
LIAM
I didn't think I'd be seeing you so soon. So, what appears to be the problem?

CARA
I'm fine. Really.

LIAM
Now if that was the case, you wouldn't be here.

PANEL 5
CARA
It's nothing, I've got a cough after being exposed to the gas.


[EDIT] – Fany now has the full funds!! So thank you to anyone who's contributed! XD NOT EVEN 24 HOURS! Talk about team work!!!
HEY EVERYONE!!! I have a favour to ask, a really awesome friend of mine is having a bit of trouble, all I'd like from you is that you please spend a few moments to read this comic of hers, if you think you can help her, then please let her know 🙂 <3 Fany has done a lot to help support myself and my comic, I can't let this happen to her >.<;!! Especially to someone so talented @w@ read the comic to find out more!
Voting for Tethered is still up! So please continue to vote if you wish to support Tethered through to the finals 🙂 thanks guys!!
I'm also going to be updating this poster, and turning it into a wallpaper instead so that I am able to fit more characters in! If you'd like to join, then let me know and send a PNG file to contacttetheredcomic@gmail.com – please make sure that the background is transparent so that I can just pop your character in with the rest 🙂 Thanks as always guys!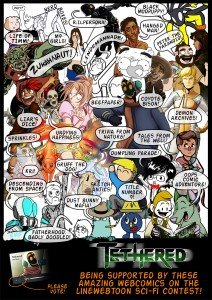 Please feel free to email me at contacttetheredcomic@gmail.com if you want to give me any feedback or comments, its always good to hear from you guys!
Enjoying Tethered? Please show your support and like the Facebook page!