Tethered #120
on
April 17, 2015
at
7:42 pm
↓ Transcript
PANEL 1

MIKE
I'm guessing you won't want to have this then.

ED
Not unless I want to sizzle my circuits!

PANEL 2
MIKE sets the bowl down and looks amused at ED

MIKE
[Laughs]
Sizzle your circuits? You sure seem different from the other scrappies, never met one with a sense of humour before!


PANEL 3
ED
Scrappies?

MIKE
[Uncomfortable]
Oh, it's what we call bots, 'cause they usually end up as uh, scrap…

ED
[Worried]
Ah, yes…

PANEL 4
MIKE grabs hold of ED's arm and pulls him forward

MIKE
Don't worry! I'll make sure you stay safe! I owe you one after all. Now. Wanna see something cool?

ED
Sure, why not!



I've been designing a tshirt for Tethered, had it knocking around for a while but decided to actually put it out there to see what people thought! So far so good, but just letting everyone know this is probably going to be a design I'm definitely going to go for >w<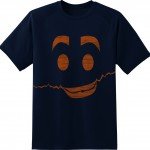 For those of you on Tapastic, I just thought I'd draw your attention to mine @w@ [CLICK HERE FOR TETHERED ON TAPASTIC] Please subscribe if you are >w<!
Please feel free to email me at contacttetheredcomic@gmail.com if you want to give me any feedback or comments, its always good to hear from you guys!
Enjoying Tethered? Please show your support and like the Facebook page!
Also, please support my little sister! She's in need of a new wheelchair, please click the link below to find out more.