Tethered #116
on
March 20, 2015
at
6:00 pm
↓ Transcript
PANEL 1
ROBIN is eating but addressing CARA, MIKE is submissive in the centre, eating his stew quietly

ROBIN
Mike tells me your friend isn't joining us. Ben would prefer you two stick together. I hope you understand the guard is just a precaution

CARA
We won't be staying long.

ROBIN
Where are you heading?

CARA
...

PANEL 2
ROBIN grabs her bread and dips it into her stew, not making eye contact with CARA. MIKE looks up at her curiously.

ROBIN
Okay. Perhaps at least give me a name?

CARA
I'd prefer not to.

PANEL 3
MIKE grins, ROBIN and CARA look at him in surprise as the mood suddenly changes

MIKE
Oh I get it! You're a crime fighter right? Like a superhero! That's why you have to be so secretive!

PANEL 4
ROBIN puts her foot down, CARA tries to continue eating her food, not wanting to stay there for people to ask her questions she doesn't want to answer. MIKE looks at his mum

ROBIN
Michael! You and your superheroes! What have I said about reading those comics??

MIKE
But…

ROBIN
Please Michael, not another word. I'm not in the mood.

PANEL 5
MIKE is walking away, annoyed/upset, holding a bowl of food, his back turned to everyone as he goes walks away

ROBIN
Where are you going?

MIKE
To my room.

ROBIN
Don't let me catch you reading those comics. Eat your dinner then straight to bed.



Since my friends birthday last Friday, we all now want a pet skunk. THEY ARE SO NICE TO SNUGGLE!!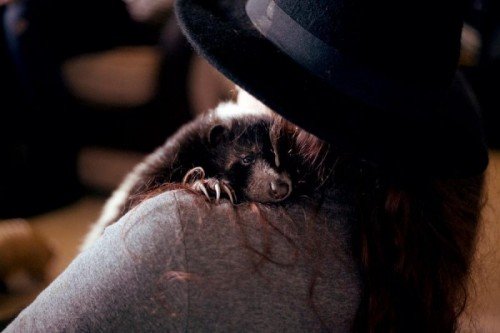 My sister snuggling a skunk! – Photo by Joe Salmon
Please feel free to email me at contacttetheredcomic@gmail.com if you want to give me any feedback or comments, its always good to hear from you guys!
Enjoying Tethered? Please show your support and like the Facebook page!