Tethered #131
on
July 10, 2015
at
6:00 pm
↓ Transcript
PANEL 1
ED
It certainly has been a pleasure having your company! What about your other friends? Will they not miss you?

MIKE
Oh, naahhh… I don't really get along too well with the other kids. There's not many of us anyway.

PANEL 2
ED
I must admit I don't recall seeing many youngsters.

MIKE
We don't get much of a childhood anyway. Oh! But Den and Ann are expecting a baby!

PANEL 3
MIKE
She's really big now! The doctor says she only has a couple of weeks left!

ED
You seem excited!

MIKE
Yeah I am! Not many people have babies… 'just another mouth to feed'. But the harvests are doing better each year since the soldiers have moved further north.

PANEL 4
MIKE
Now all we need to do is worry about the Bruxy's. Grandpa says their bark is worse than their bite, but since David disappeared, I have my doubts.

PANEL 5
ED
Plus they did almost beat you to death.

MIKE
Haha! Yea that too!



Hi guys!!! I've got a couple of things to announce!! First is TETHERED HAS MADE IT TO THE TOP 16 SCI-FI WEBCOMICS!! As I had mentioned before, I entered Tethered into the LINEwebtoons contest, and thought I had entered it too late so just kinda forgot about it…But I received an email letting me know I actually got through!! So thank you to everyone who supported me through that stage! Now it is time to vote! Please feel free to vote for me, or check out the other comics! 🙂 It's an awesome opportunity for the contestants to get a few more readers, so even if you do vote for me, please give the others a read because they are all real gems!
NOW THE OTHER NEWS!!
MY SISTER GOT HER NEW WHEELCHAIR!! take a look at this sexy beast!!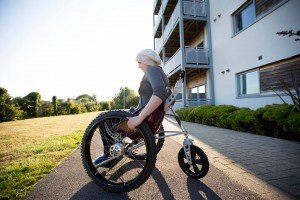 Thank you to everyone who supported us through that too, you guys have been absolutely amazing towards not just myself and this comic, but also my family…And for that I want you to all know that I appreciate it with all my heart <3 Starting this comic has brought me so much joy in so many aspects of my life, and I couldn't have done it without my readers and friends. So thank you 🙂
Please feel free to email me at contacttetheredcomic@gmail.com if you want to give me any feedback or comments, its always good to hear from you guys!
Enjoying Tethered? Please show your support and like the Facebook page!