Tethered #132
on
July 17, 2015
at
7:17 pm
↓ Transcript
PANEL 3
MAN
You alright?

CARA
I'm fine.

PANEL 5
MAN
Go see the Doc about that cough.



OK! OK! So….TETHERED'S MADE IT TO THE TOP 8 ON THE LINEWEBTOONS CONTEST XD Which has been super awesome exposure for Tethered, really feels wonderful to be able to provide a story that I worked hard on to a wide audience 🙂 and seeing how well received it has been is beyond wonderful! Thank you to everyone ONCE AGAIN for your amazing support! Really giving fuel to this fire and making me want to create the best comic I possibly can!
If you'd like to keep voting, then please do so! You can vote for Tethered every day as votes refresh at 10am EST! Also check out the other comics that made it through to the finals, they are pretty darn awesome!
I'd also like to give a shout out to TopWebComics as they've been supporting Tethered through this contest too! Go throw your comic up on their site! They've given me quite a few readers 😀 and the more you post your comic out there, the more likely it is to get noticed!
Now…ADMIRE THIS POSTER OF AWESOMENESS! Filled with many wonderful comic artist's characters who have also been supporting Tethered during this contest 😀 KEEP IT COMING GUYS! These comics all deserve more love UwÚ so if you have time, please check them out!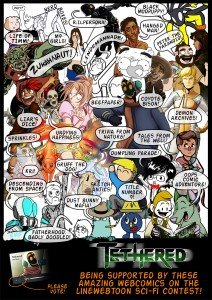 Please feel free to email me at contacttetheredcomic@gmail.com if you want to give me any feedback or comments, its always good to hear from you guys!
Enjoying Tethered? Please show your support and like the Facebook page!